Teesside Poised for Bioenergy Plant in Europe
Have you seen Oilgae's comprehensive report on the attractive product and business opportunities from algae?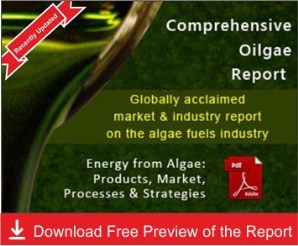 The only report anywhere in the world that scientifically analyses every possible non-fuel product opportunity from algae - in nutrition, animal/fish feed, medicine and pharma, specialty chemicals such as agrochemicals and lubricants, plastics, environmental remediation and more.
Know more about the Comprehensive Algae Business Opportunities report from here .
Ineos Bio, part of the world's third-largest chemicals company, has this month taken a step closer to making this concept a reality by securing £7.3m ($10.9m) of grants towards its development of Europe's first waste to bioethanol plant.
"You can't replace the world's transport fuels with 100 per cent biofuels but you can make a significant impact now on the carbon footprint and they can be a stepping stone to all the better fuels coming on the back of that," Paul Thompson, head of policy at the Renewable Energy Association says. These could be substances such as algae, on which the National Industrial Biotechnology Facility in Teesside is working.