Carbon Trust Launches Algae "Dream Team"
Have you seen Oilgae's comprehensive report on the attractive product and business opportunities from algae?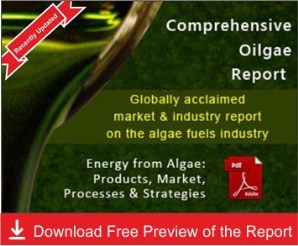 The only report anywhere in the world that scientifically analyses every possible non-fuel product opportunity from algae - in nutrition, animal/fish feed, medicine and pharma, specialty chemicals such as agrochemicals and lubricants, plastics, environmental remediation and more.
Know more about the Comprehensive Algae Business Opportunities report from here .
The Carbon Trust has today launched a new £8m research project designed to establish the UK as a world leader in the development of algae-based biofuels for use in the automotive and aviation industry.
The project will bring together a "dream team" of more than 70 leading scientists from 11 institutions, including the Universities of Manchester, Newcastle, and Southampton, the Plymouth Marine Laboratory and the Scottish Association for Marine Science.
They will work on a wide range of integrated projects designed to accelerate the development of commercially viable algae-based fuels, starting with work to screen thousands of different strains of algae to identify those that can deliver the greatest yields of oils that can be converted into biofuel.