Bionavitas Devised a Way to Grow Algae Thick Within Ponds
Have you seen Oilgae's comprehensive report on the attractive product and business opportunities from algae?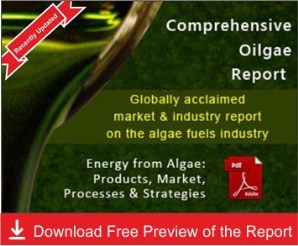 The only report anywhere in the world that scientifically analyses every possible non-fuel product opportunity from algae - in nutrition, animal/fish feed, medicine and pharma, specialty chemicals such as agrochemicals and lubricants, plastics, environmental remediation and more.
Know more about the Comprehensive Algae Business Opportunities report from here .
You are at: Oilgae Blog.
Bionavitas, a Redmond-based company developing ways to grow algae to create biofuels, nutritional supplements and an environmentally friendly way to clean up pollution.Bionavitas is self-funded by its founders, and several angel investors also have provided funding.The company's leaders say they are looking for outside investors — including venture capitalists — and hoping for money from the federal economic-stimulus package.
Bionavitas proposes to place thin glass rods inside a pond or container and let light from the surface travel down the rod.Each rod transmits solar energy beneath the surface, allowing algae to grow at depths otherwise darkened by surface-growing organisms.
Bionavitas said it hopes to sell its light technology to other firms producing algae for biofuel.
It also plans to use the light rods itself for growing algae that can soak up heavy metals and other contaminants at old mining sites.
By the way, have you subscribed to the Oilgae Blog?; How about joining the Oilgae mailing list?; and our forum to discuss on with others?