Clean Water the Clean Way
One product is the solution for problems over the decades in wastewater treatment, fish kills, dead zone, aquatic food chain, aquaculture, agriculture...
Nualgi facilitates the growth of diatoms. It prevents the growth of waterweeds, water hyacinth, green algae and blue-green algae and other waste plants in lakes, ponds, rivers and other water bodies.
Wish to know more?...read more
Contact: Vinayak Bhanu
Mobile 0091 9840441078

Email vinayak@clixoo.com

Waste-water originates predominantly from water usage by residences and commercial and industrial establishments, together with groundwater, surface water and storm water.
There are a variety of processes that can be used to clean up wastewaters depending on the type and extent of contamination. Most wastewater is treated in industrial-scale wastewater treatment plants (WWTPs) which may include physical, chemical and biological treatment processes.
Most wastewater treatment systems typically have three distinct stages of operation.
The treatment plants have a primary treatment stage to reduce the BOD (Biological Oxygen Demand - The amount of oxygen required by aerobic microorganisms to decompose the organic matter in a sample of water) and amount of settleable solids in the wastewater. The secondary treatment does further biological removal of BOD, solids, and other pollutants. Pathogens and other toxic pollutants are removed in the tertiary stage through the use of disinfectants.
The typical stages of a wastewater treatment system are illustrated below:
Typical Stages in a Conventional Wastewater Treatment Operation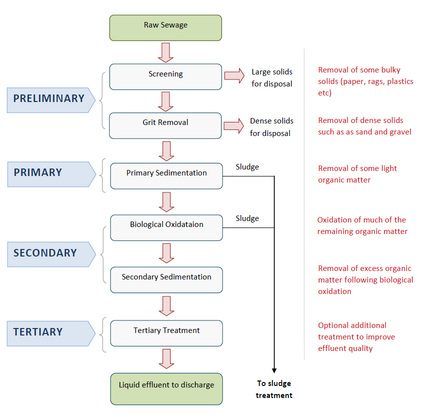 Source: http://www.lboro.ac.uk/well/resources/technical-briefs/64-wastewater-treatment-options.pdf
The major disadvantages associated with current wastewater treatment practices are:
Many wastewater treatment processes generate large amounts of sludge that must be sent off-site for disposal. Handling and disposal of this sludge is typically the largest single cost component in the operation of a wastewater treatment plant.

Most wastewater treatment processes cannot effectively respond to diurnal, seasonal, or long-term variations in the composition of wastewater. A treatment process that may be effective in treating wastewater during one time of the year may not be as effective at treating wastewater during another time of the year.

High energy requirements will make many wastewater treatment methods unsuitable for low per-capita energy consumption countries.

High operation and maintenance requirements, including production of large volumes of sludge (solid waste material), make them economically unviable for many regions.
There are numerous researches going on in this field to design more efficient and low cost wastewater treatment technologies. This section provides an overview of the new technologies in wastewater treatment.
This section contains the following topics: